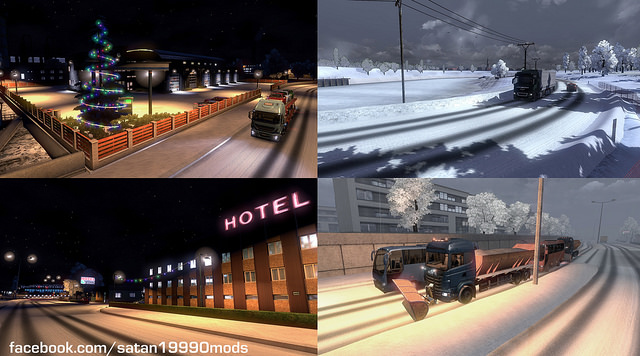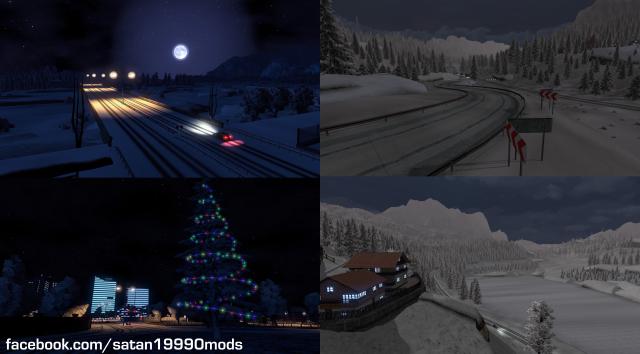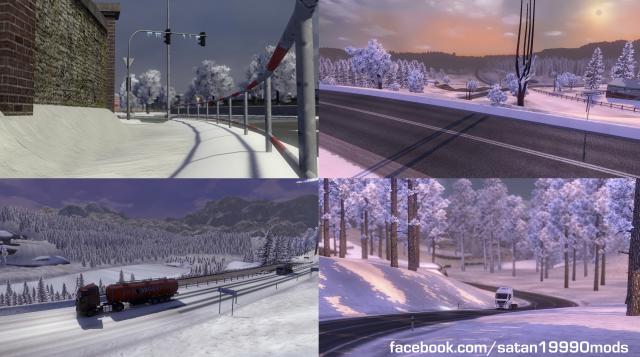 INFO
The new edition of the long-awaited winter mod to ETS2! In this version I focused on refining the details, especially the weather, time of day, and on adding more winter climates. This year, the mod has been split into 3 parts so that everyone can find the best version for himself.
Code:
#### INSTALLATION INSTRUCTIONS ####
After download and extract mod, you will see 3 .scs files, a brief description of each:
Complete Winter Mod v2.0 [BASE] - The basic part of the mod. necessary for the proper functioning
Complete Winter Mod v2.0 [ADDON] more snow on asphalt - part of the mod which adds more texture of the snow-covered asphalt, adding a snowplow, snowed wheels, etc. Do not change over driving physics, the car will behave like a normal asphalt.
Complete Winter Mod v2.0 [ADDON] Extreme - change the driving physics in the game, it is very slippery, slow motion AI.
CWM_HDR_FIX - if you use HDR, and snow is too bright, use this file.
__________________________________________________________
Changes in v2.0
- Adapted mod under v1.14 patch
- Changes in the times of day and weather
- I added drifts along walls, railings and fences
- I fixed snowy texture wheels
- I added the missing texture snowy forests and mountains
- I fixed definitions of AI cars and slows them
- I chenged loading screens
__________________________________________________________
What mod changes?
- New asphalt, roads, terrain, water and vegetation texture
- Added Christmas decorations, lights, Christmas trees, etc.
- Snowed some buildings
- Snowdrifts, snowmen instead of combine harvesters and tractors
- Snowplow added in AI traffic
- Dirty AI cars, trucks, trailers, snowed wheels
- Dirty road signs
- Snow on the windshield trucks
- New sounds of rain
- I added orange streetlights
- Horizontal markings have been removed
- Remove cows, bales of straw, harvesters etc.
Author: satan19990
Allow copy on another forum but keep orginal download link (with adf.ly) and authors! Do not reupload!